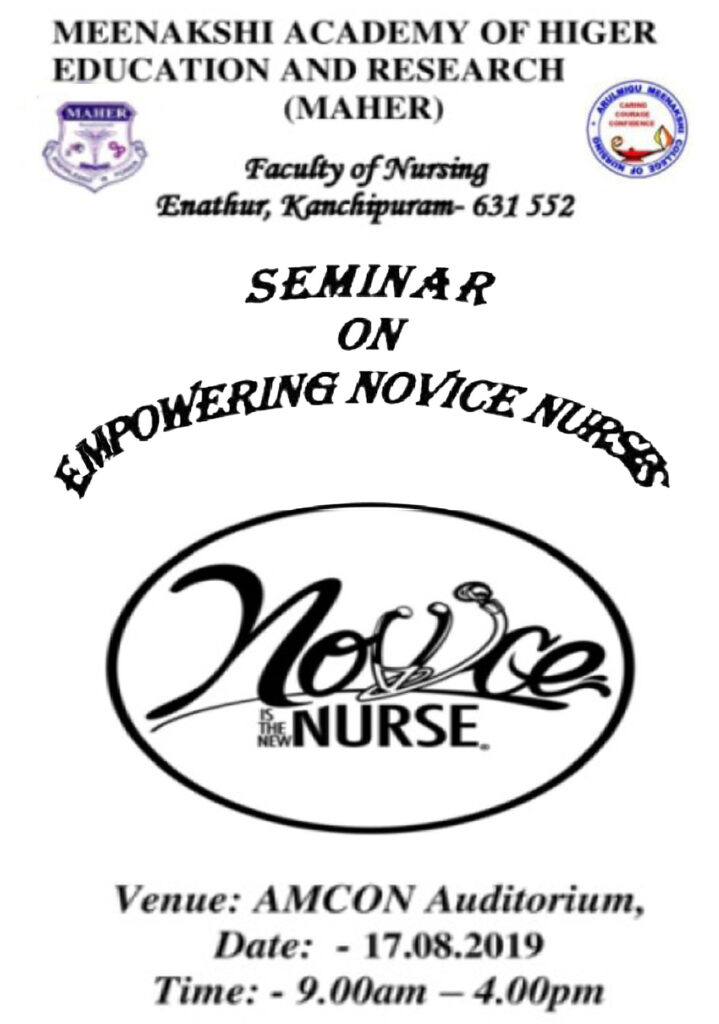 Seminar On Empowerment Novice Nurses

| S.No | Topic | Resource Person |
| --- | --- | --- |
| 1 | Empowering novice nurses | Prof. Fabiola. M. Dhanaraj,Principal |
| 2 | SWOT Analysis of AMCON novice graduates | Mr. R. Navien Kumar |
| 3 | Moving uphill: study | Mr. M.V. Manikandan |
| 4 | Moving uphill: Work | Mr. K. Dilip Kumar |
| 5 | Burnout in novice nurses | Ms. K. Yamini |
About Us…
Arulmigu Meenakshi College of Nursing, (AMCON) is a constitute college of the Meenakshi Academy of Higher Education and Research (MAHER) which was established in 2007 and offers B.Sc. Nursing. AMCON is situated in the campus of Meenakshi Medical College Hospital and Research Institute, Enathur, Kanchipuram. The institution has multifaceted facilities such as 951 bedded Multispecialty parent hospital, well equipped laboratories, library & so on.
About Our Alumni Association!
The alumni association achiwves these objective by staging an annual programme of events reunions through workshops, conferences, seminars, inviting them as special guests for events helped in AMCON, by supporting student scholarships and others fund raising initiatives.
To keep a restore of all alumni of AMCON and their pertinent data.
Maintaining the updated and current information of all Alumni.
To guide and assist alumni who have recently completed their courses of study at AMCON to keep them engaged in productive pursuits useful to the society.
About the Seminar!
Heathcare organizations are struggling to find efficient and effective strategies to facilitate the transition of a new graduate into the staff nurse role. Attention contributes to this shortage as does competition from other professions. Empowering the graduates of Arulmigu Meenakshi College of Nursing would enable them to retain in the profession as well as do a analysis of what is best for them. Providing graduates with a sense of the caring and scholarly heritage of the profession is part of that empowerment. This seminar would surely help the alumni to empower themselves as the speakers are mainly the graduates of "AMCON family"
AIMS
To sensitize the novice B.Sc(Nursing) graduates to cultivate a habit of learning through updates & life experiences.
Objectives:
To empowering novice nurses.
To do SWOT Analysis of AMCON novice graduates.
To enlighten the process of Moving uphill Study.
To Burnout in novice nurses.
Target Population
The targeted population is B.Sc(Nursing) graduates of Arulmigu Meenakshi College of Nursing from 2012 onwards.
Conference Secretariat
Parton
Thiru A.N. Radhakrishnan Chancellor, MAHER
Dean
 
Organizing Chair Person
Prof. Fabiola. M. Dhanaraj Principal.
Faculty of Nursing
8754907707
E-Mail:
amconkanchipuram
@gmail.com
The program started at 11.00 am with Tamizhthhaivazhthu. Prof .P .Jemima Jaya Kumari, M.Sc.(N),AMCON ,welcomed the gathering . Prof.  Fabiola . M .Dhanaraj ,Principal , AMCON ,unfolded the theme " Empowering Novice Nurses". Mr.R.Navien Kumar (Alumni ) "Emphasized on SWOT analysis of AMCON novice  graduates". Followed by Mr.V.Manikandan (Alumni ) explained about "Moving Uphill :STUDY". After the Lunch Break the /scientific session continued with Mr.K.Dilip Kumar (Alumni) Presentation on "Moving Uphill: WORK.  " Ms.K.Yamini (Alumni) presented on": Burnout in Novice Nurses".
              Momento's and Certificates were distributed to the Alumni by Principal AMCON. Alumni members enthusiastically contributed the purse money . Mrs .R. Uma, Asst .Prof. AMCON  delivered the Vote of  Thanks . Total 112 Alumni joined the programme.The Program ended with National Anthem at 4.00 pm