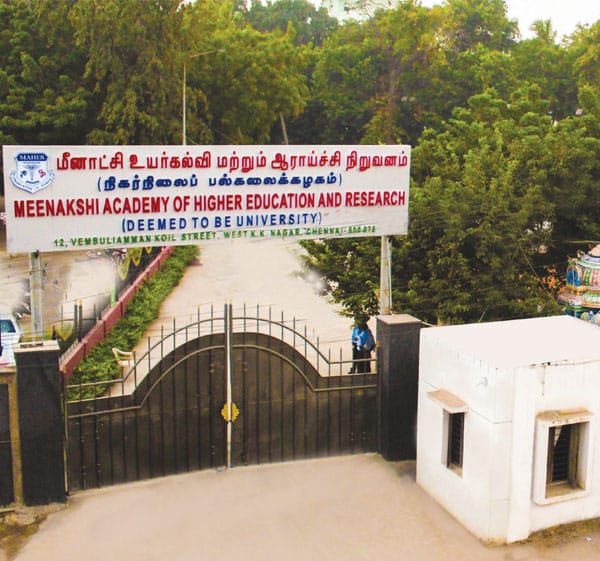 Meenakshi Academy of Higher Education & Research (MAHER)
MAHER, a flagship institute (Deemed to be University), is part of a very large conglomerate of India's top league education institutions under the Meenakshi Ammal Trust, a public charitable education trust, founded in the year 1983 by late Mrs. D Meenakshi Ammal, a noted philanthropist and astute social leader of her time. Thiru. A. N Radhakrishnan, a core academician and a visionary leader, has been spearheading the Trust and all its educational institutions for over the last four decades with an incredible spirit. He is passionate about uplifting the marginalized sections of society through education. He has tirelessly and painstakingly worked to bring academic eminence to all institutions with deeply embedded values in their governance.
Become a part of this prestigious medical institution.
The admissions for various undergraduate and postgraduate courses at MAHER will boost your career to further big opportunities. Apply now to become a part of this huge family of Meenakshi Academy of Higher Education and Research.
Institutional Accreditations
[sp_news_slider design="design-37" show_author="false" content_words_limit="12" slides_column="4"]
To Impart Quality Education
To be a world-class institution, transforming society through value-based diverse programs and healthcare advancements, leading to the all-around development of human resources, knowledge, innovation, entrepreneurship, and research.
Research Publication
Details
Over the years, MAHER has proven research competencies in the form of 790 publications in reputed national and international peer-reviewed journals.
Our Leadership &
Our People
The unbiased administration of MAHER is well structured to uphold the various functions of the institute. The Honorable Chancellor Thiru A.N. Radhakrishnan heads the administration.
Meenakshi Academy of Higher Education and Research has received several accreditations from the Government and Non-Government agencies with non-biased reviews.
MAHER's commitment to research all healthcare spheres, including medicine, dentistry, nursing, occupational therapy, and physiotherapy, has been unwavering.
Latest Research Publications