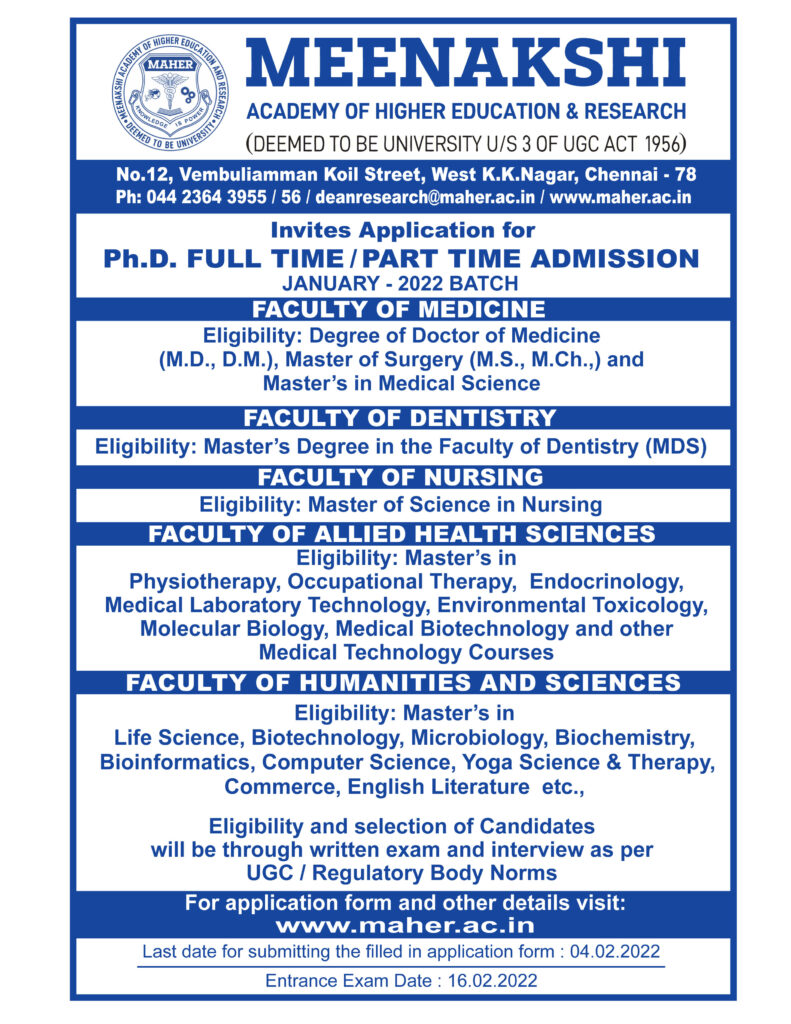 Terms and conditions to apply for Ph.D Programme
Read the application and prospectus carefully
Incomplete applications will not be accepted
Passport size photograph of the candidate should be in good resolution and professional
Scanned supporting documents should be in pdf  format not exceeding 2mb.
Allotment of seats will be  based purely on  performance in the entrance exam and interview
Last day for applying via  online form is 04.02.2022
EITHER  Demand Draft (drawn in favor of "THE REGISTRAR, MAHER" Payable at Chennai ) or  Screen shot of Proof of Payment in case of online payment  along with hard copy of the application and  supporting documents should reach  office of  `Dean Research, MAHER, No, 12 Vembuliamman Koil Street, West K.K.Nagar, Chennai-600 078, Tamil Nadu, India ' on or before 06.02.2022
The request for refund or cancellation will not be entertained.
Instructions for Online Payment
1) Click the Pay Now ( Blue Color) 2) Enter your Name, Address, Email ID  and Phone number. 3) Make the payment 3.1
Online Payment: Rs. 3,075/- (Application Fee Rs. 3,000 + Online Processing Fee Rs. 75)
3.2
Demand Draft: Rs. 3,000/- Only.
4) Extract the transaction ID, date and screen shot of payment for proof. 5) Fill in the appropriate options (Payment id, Transaction date and screenshot of payment proof ) available in the application form For queries & clarifications, please contact  +91 44 23643955 | +91 44 23643956 | Email: 
deanresearch@maher.ac.in
Click on the Pay Now(Blue Color) to make online payment of Ph.D Application Fee.
MAHER-Ph.D. Application (Jan 2022)