Located on the outskirts of Chennai, Meenakshi College of Nursing has an exclusive building with the entire infrastructure required to learn Comprehensive Nursing care. The Nursing College offers a four-year B.Sc. Nursing Degree Program, two years Post Basic B.Sc. (Nursing) and a two years Master's Degree Program in Nursing, M.Sc. (Nursing) with five specialties. The programs are meticulously planned, which starts with classroom teaching, followed by simulation labs, after which the students are given real-time training in the clinical as well as the community area. A pedagogical approach is used for training the students.
Since the inception of the college in the year 1998, there has been no compromise made on the quality of education and training. Our vision is to focus on the all-around development of the nurses, by ensuring improvement in health equity. As leaders in nursing, we prepare our future nurses in a way that is not limited to an acute care setting or operating theatre, but to handle any roles and settings wherever the profession takes. The future of Nursing is in our hands and in spirit of that thought, our students are perpetually motivated to "Think Big and Act Bigger".
Community health nursing specialty is also known as public health nursing. The department integrates community involvement and knowledge about the entire population with personal, clinical understanding of health and illness experiences of individuals and families within the population. It offers learning experience that facilitates competent nurses, who demonstrate excellence in community service, family & individual care, education and research. The department works within communities and helps the students to focus on different areas as public health nurses in schools districts, state and national health departments to improve the overall health of the people within that community. The department as committed faculty members who are experts in recent advancements.

The field of training is set forth in both rural and urban areas including the primary health centres. The students are exposed to both government sector and our parent health centres in the rural and urban area.
Committed in providing preventive, curative, rehabilitative and referral services to the people through Mass awareness programmes, health camps, screening, health programs at national level, risk management services and epidemic control measures.
Regular surveys / enumeration are carried out for planning and implementation of health programmes.
Home visits are made by community health nursing students under the supervision of the faculty members for Screening of communicable and non communicable diseases, such as DM, HT, stroke and Cardiovascular diseases, cancer cervix , TB, Filaria, dengue fever and HIV & AIDS.
Students perform physical assessment for different age groups including antenatal and postnatal assessment, nutritional assessment, socioeconomic and environment assessment to identify the health needs and problems of the family.
Promoting health behaviour including food and nutrition, physical exercise, counselling, self-care, treating of minor illnesses, complementary therapies etc.
Empowering women and capacity building of community agencies/ organizations, groups and networks to encourage collaborative community initiatives and nurturing social relations and activities among people in the community.
Conducting school health programme for both private and government schools in collaboration with other departments to provide free medical camps in the schools and community.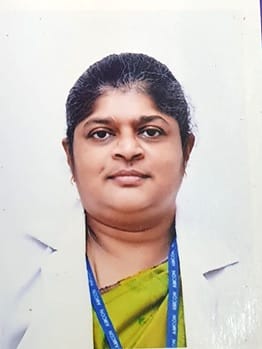 Dr. Fabiola M. Dhanaraj,M.Sc.(N), PGDGC, MA(G&C), Phil(G&C), PhD(N).
Greetings from Meenakshi College of Nursing! After the pandemic, many of us may look back at the hardest time when we all were resilient stewards. The pandemic uncovered and created new opportunities for those in the field of nursing to change the society. Human beings understood the impact of health on the concepts of "live, love, pray, work, learn and play". This awareness has radically transposed the thought process of academicians in nursing. The motto of our college is, "To Serve is Divine'. We, at Meenakshi College of Nursing, aim to nurture nurses who understands people in the context of life circumstances and serve them efficiently. Through our experienced Faculty and state of the art infrastructure, we are committed to produce competent qualified nurses to face the health care delivery system globally. Once again I extend a hearty welcome to the students and assure them of a blooming career, at one of the most prestigious Institutes of the country.