Located on the outskirts of Chennai, Meenakshi College of Nursing has an exclusive building with the entire infrastructure required to learn Comprehensive Nursing care. The Nursing College offers a four-year B.Sc. Nursing Degree Program, two years Post Basic B.Sc. (Nursing) and a two years Master's Degree Program in Nursing, M.Sc. (Nursing) with five specialties. The programs are meticulously planned, which starts with classroom teaching, followed by simulation labs, after which the students are given real-time training in the clinical as well as the community area. A pedagogical approach is used for training the students.
Since the inception of the college in the year 1998, there has been no compromise made on the quality of education and training. Our vision is to focus on the all-around development of the nurses, by ensuring improvement in health equity. As leaders in nursing, we prepare our future nurses in a way that is not limited to an acute care setting or operating theatre, but to handle any roles and settings wherever the profession takes. The future of Nursing is in our hands and in spirit of that thought, our students are perpetually motivated to "Think Big and Act Bigger".
The activities in campus have provided encompass everything from entertainment to extracurricular or even religious activities. There are many activities provided to keep students occupied in all of their fields of expertise. It is a lively living and learning environment, with cultural events, sports, fine arts, and entrepreneurship, enabling students to go beyond the boundaries of academics.
Cultural activities aid in the pupils' overall growth. The students are no longer bookworms thanks to these. They pursue their passion while studying and taking part in other activities. Therefore, parents should pick schools that place equal value on academics and extracurricular activities for a child's development.
Sports, in addition to academic activities, are given a high priority at Meenakshi College of Nursing. Physical exercises might help students feel relieved and focused. Sports activities assist youngsters maintain their physical, mental, emotional, and intellectual health. Our college offers a great chance for students to become acquainted with both indoor and outdoor games. Sports have become one of the most popular forms of human interaction, whether as professionals or beginners on a regular or occasional basis. Basket Ball Badminton Cricket Foot Ball Kabaddi Table Tennis Carrom Chess Athletics, as well as indoor and outdoor events, are held. The College rewards students who excel in athletics. The college features a large playground where students can participate in a variety of outdoor activities.
"Do something now that your future self will appreciate later." The clubs provide opportunity for students at Meenakshi College of Nursing to improve their talents and learn new ones through workshops, sessions, and events. These activities encourage the students to understand their innate abilities in a safe environment. Joining a club is simple and can make your life more rewarding, stimulating, and, most importantly, enjoyable. It allows students to meet people who share their interests and ambitions and to enthusiastically pursue them. Some of the activities conducted through club activities are as follows
Out Reach Community Programs
Health day celebrations
Yoga classes
NSS Activities
Green club
Field visits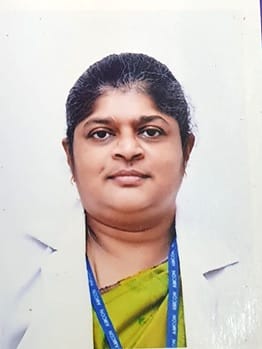 Dr. Fabiola M. Dhanaraj,M.Sc.(N), PGDGC, MA(G&C), Phil(G&C), PhD(N).
Greetings from Meenakshi College of Nursing! After the pandemic, many of us may look back at the hardest time when we all were resilient stewards. The pandemic uncovered and created new opportunities for those in the field of nursing to change the society. Human beings understood the impact of health on the concepts of "live, love, pray, work, learn and play". This awareness has radically transposed the thought process of academicians in nursing. The motto of our college is, "To Serve is Divine'. We, at Meenakshi College of Nursing, aim to nurture nurses who understands people in the context of life circumstances and serve them efficiently. Through our experienced Faculty and state of the art infrastructure, we are committed to produce competent qualified nurses to face the health care delivery system globally. Once again I extend a hearty welcome to the students and assure them of a blooming career, at one of the most prestigious Institutes of the country.