Faculty of Humanities and Science (FHS), a constituent college of Meenakshi Academy of Higher Education and Research, was established in the year 2011. The college offers Under Graduate and Post Graduate courses in various streams besides offering professional training to meet the job requirements. Though the faculty was co-education at the time of inception, from the year 2016 onwards, it offers courses exclusively for women except for B Sc in Visual Communication – which is co-education. At present Faculty of Humanities and Science offers UG programs in the fields of Commerce, Computer Science, Tamil Literature, English, Mathematics, Management Studies, Nutrition and Dietetics, Psychology, and Visual Communications, and Post Graduate Programs in Master of English and Master of Commerce besides research programs – Ph.D. in all streams. Experienced faculty members and state-of-the-art infrastructure, well-equipped computer laboratories and the library, sports facilities- both indoor and outdoor, counseling for students desirous to go abroad and various value-added courses and skill enhancement programs with student-centric teaching methodologies are some of the unique features of FHS.
In keeping with the Vision of our Founder Chancellor, FHS creates leaders and highly skilled manpower to meet the needs of the industry by constantly updating the curriculum and revising the syllabi in consultation with experts and the industry. A team of experienced and dedicated full-time faculty members with doctorates and exposure to the industrial needs focus on imparting quality education to the students. FHS follows the mentoring practice of 1:20 to ensure the active involvement of the students throughout the period of their study by engaging them in both curricular and extracurricular activities.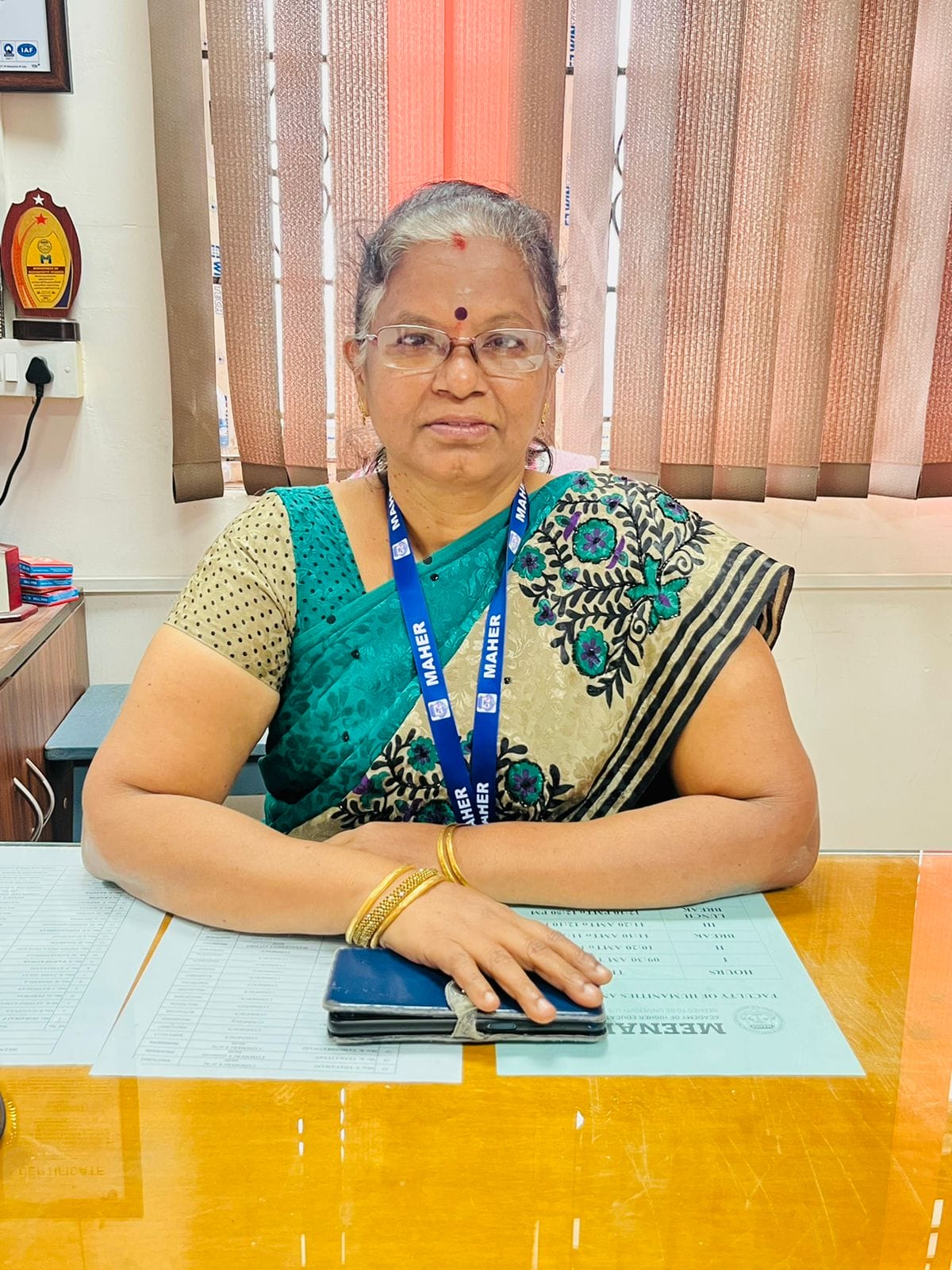 Education empowers a woman and amplifies the horizon of her mind. It strengthens the society and enables a woman to earn her living with respect and honor. We, at FHS MAHER take sincere efforts, along with the teaching faculty, to provide empowering education to the students. I could say that MAHER – FHS has achieved a lot in the last few years through our academic and non academic activities. At present, in keeping with the times, our college focuses on imparting 21st century skills among the students- critical thinking, creativity, communication and digital literacy to meet the needs of changing technologies and the industry at large through workshops, training programs, co-curricular and extracurricular activities. As the captain of FHS team, I am honored and delighted to welcome the changes and accomplishments of the institution. In the days to come, FHS will act as a game changer by helping the students in their professional and personal development. We endeavor to equip our students with both technical and management skills, so that they meet the needs of the industry by being excellent professionals. In this context, I wish to praise our dedicated and experienced faculty, for engaging the students in a wide range of exciting learning opportunities, and for making the curriculum updated by partnering with several industries. In order to accomplish our vision, we are prepared to take as much effort as possible for the betterment of academic scenario. We accept that education is an active medium of social transformation. We get encouragement, looking at bright and successful careers of our thousands of students, which subsequently benefit the society. We feel proud that we are part of such an excellent institute, which is shaping modern India. I wish the best of fortune, peace and prosperity to all those who contribute to the noble task of spreading education and its manifest qualities, aims and objectives. With so many options and opportunities offered by us, you're certain to find your place within our Humanities and Science programs. Join us.