Research And Development Cell At MAHER
MAHER's commitment to research all healthcare spheres, including medicine, dentistry, nursing, occupational therapy, and physiotherapy, has been unwavering. In addition to healthcare and related fields, MAHER also focuses on research that includes expertise in the humanities and sciences, allied health sciences, basic sciences, and yoga science & therapy. 
To encourage the practice of research, MAHER's research board conducts several webinars annually on various topics including, 'article writing,' 'research ethics,' 'reference managing,' etc. Renowned researchers lead these webinars in multiple domains. The research publications are checked for plagiarism and other ethical issues by the Institutional Academic Integrity Panel to help MAHER's contributions reach the scientific community.
MAHER's research board carries out the essential tasks in Research and Publication like: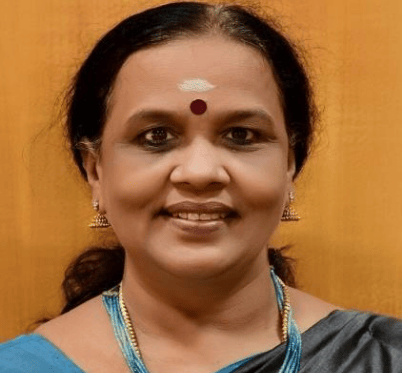 Dr. K. Revathi, with expertise in Environmental Biology, holds the position of Director of Research at Meenakshi Academy of Higher Education and Research. Before the current assignment, she had proved her excellence in various administrative roles, including Former Principal (Adhoc), Dean of Research, Associate Professor, and Head in Ethiraj College for Women, Chennai, India. She has guided 50 Ph.D. and 17 M.Phil scholars. She has more than 150 publications in National and International journals. In addition, she has published four books, deposited 21 data in GenBank, and owns five patents. She has also successfully completed six sponsored research projects and two minor projects as a principal investigator during her research career. She has an international collaboration with renowned scientists at Université de Bourgogne, Dijon, France. She has also received several state and national awards, including the 'State environmental award for best research paper in 2016' and the 'INSA fellowship award for the year 2011-2012'. She has attended several conferences and also serves as a committee member in various administrative committees.
More: https://vidwan.inflibnet.ac.in/profile/165702
Over the years, MAHER has proven research competencies in the form of 790 publications in reputed national and international peer-reviewed journals. According to the data from the SCOPUS database, MAHER has published more than 400+ publications in the last five years (January 2015-May 2021). Apart from publishing scientific articles, the faculty of MAHER serve as contributors, editors, and authors of textbooks published by reputed publishers. Further, Meenakshi Ammal Dental College houses the Journal of Forensic Dental Sciences editorial board, a PubMed Indexed Journal. The list of publications during the last five years (January 2015-May 2021) is Tabulated below.
MAHER_SCOPUS_JAN2015-MAY2021.csv
MAHER is an institute with intensive research focus on medical, dental, and healthcare practices, reflecting the service to society. In keeping with the National Education Policy 2020, it has further opened its gates to scholars and researchers in multi-disciplinary research. The ecosystem is nurtured and led by the Board of Research. It has taken several initiatives to develop the research culture, prioritizing novel research in medical and dental products, publications, and funded research.
The research funding can be broadly split into (i) Govt. and Govt funded labs sponsored projects and (ii) Non Govt. externally sponsored projects. Funding is critical to the long-term viability of some projects. The major Government funding agencies including, Department of Atomic Energy, Department of Biotechnology (DBT), Atomic Energy Regulatory Board (AERB), Ministry of Chemicals & Fertilizers, Department of Electronics and Information Technology, Indian Council of Agricultural Research (ICAR), Aeronautics Research and Development Board (ARDB), Research in Nuclear Sciences (BRNS), Council of Scientific & Industrial Research (CSIR), Defence Research & Development Organisation (DRDO), Department of Chemicals & Petrochemicals, , and Indian Council of Medical Research (ICMR).
View the list of the Government funded projects accepted under MAHER in the last 5 years.